Happy Summer Gauchos!
UPDATE!
We have finished our hiring procedures for the quarter. Please check back soon and stay updated on our social media accounts to be the first to see any future hiring announcements!
The Associated Students Department of Public Worms is hiring! We are looking for some amazing students committed to helping the planet and gettin' their hands dirty! We're excited to start working this year as DPW is involved with more projects than ever before. So if you want to be involved with one of the leading green organizations on campus, this is the job for you!
Worm Wranglers run UCSB's on-site composting programs. Worm Wranglers collect and process food waste from UCSB Dining Commons through vermicompost bins and hot compost stalls, maintain the compost program at the Family Student Housing complexes, manage an educational garden and participate in outreach activities and events to promote DPW's work and mission. As a member of the Edible Campus Coalition, DPW students care for the citrus trees in the Urban Orchard program, vertical garden program, and will take care of the future student run farm and various other Edible Campus projects.
DPW students were also crucial partners in establishing UCSB's off-site compost program that diverts tons of waste from the landfill each year and they continue to collaborate with other campus departments to food waste and increase composting at UCSB.
Duties
Maintain and expand vermicompost program by feeding and caring for worm populations; balancing bin moisture, temperature, and other factors
Collect and sort compost material from the dining commons
Manage the Family Student Housing compost program by sorting, shoveling, and turning compost piles, adding grass clippings and other material as needed to maintain balance
Maintain education garden space in Eucalyptus Grove
Take care of the citrus trees in the Edible Campus Urban Orchard program by watering, fertilizing and harvesting fruit to donate to the AS Food Bank
Assisting with Edible Campus Vertical Gardens and seedlings
Assist with outreach activities such as workshops, tabling, and preparing event materials
Harvest, collect, brew and package worm tea for distribution
Drive electric vehicle and recumbent bicycles on routes and to events
Requirements
Must have a strong interest in composting, gardening and environmental issues
Must be able to research and implement new composting, planting and farming techniques
Must be detail-oriented and able to maintain accurate recordkeeping
Must be able to work in a team and coordinate schedules with multiple people
Must be extremely reliable and organized and able to work independently
Must be willing to get dirty
Must be able to lift 50 pounds
Must possess a valid driver's license
To Apply
You must submit a resume and cover letter through Handshake in order to be considered. Please label your cover letter and resume with your first and last name (ex. FirstnameLastnameResume).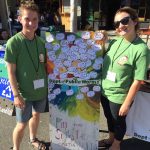 To find the posting on Handshake search, "Associated Students Department of Public Worms," or click HERE. If you have any questions please email jessicas@as.ucsb.edu.
This is a very exciting job that allows you to do hands on work for the planet. We're a fun loving group of students and hope to have you join the team!