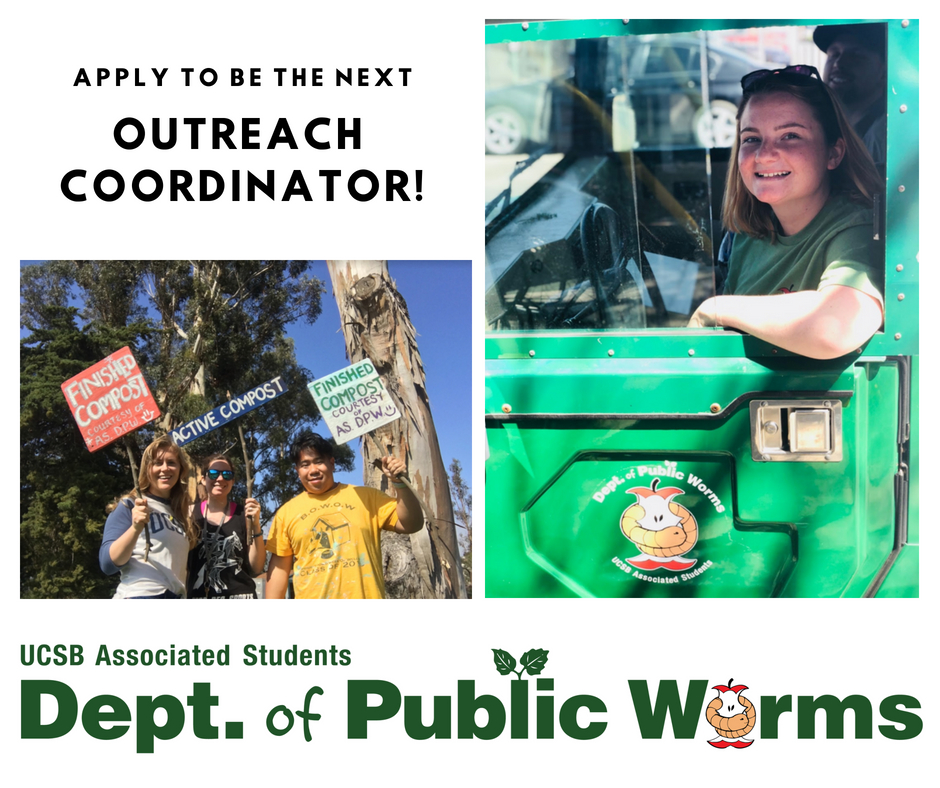 DPW IS HIRING!
Hello all! We hope everyone is having an amazing summer! We are off to a great start and already running routes and getting ready for a productive summer moving into fall quarter! One of the most important things that we are doing this summer is hiring a new Outreach Coordinator! This position is fun, eco-centric and can lead to unlimited creative possibilities. You can really make this position anything you want it to be! We encourage everyone to apply!
To do so, find our posting on Handshake, or follow THIS link!
(https://ucsb.joinhandshake.com/jobs/1566657?ref=web-app-job-search&search_id=9946f382-3cc8-4529-af8e-60e2989d04f6)
Here is the job description:
Position open until filled – apply as soon as possible!
The Department of Public Worms (DPW) manages UCSB's student-funded on-site composting programs. Students collect pre-consumer food waste from the UCSB dining commons and use vermicompost bins to process food waste into rich soil amendments. Additional aerobic compost is managed on campus and both the family student housing apartment complexes. The resulting compost and worm castings are used to educate students and as a soil amendment in the Edible Campus Program, where our team grows produce to redistribute to students at no cost through the AS Food Bank. DPW has also played a crucial as a partner in establishing UCSB's off-site organics composting program that diverts many tons of food waste from our landfill every year.
The DPW Outreach Coordinator develops DPW's informational resources, website, and social media content; coordinates quarterly events including tabling and workshops; and works with the Program Coordinator and Student Operations Coordinator with the ultimate goal of expanding the program, reducing UCSB's waste, and encouraging others to compost. This growing department plays a major role in UCSB's effort to achieve 100% waste diversion by 2020 and addressing food insecurity on campus, so committed and enthusiastic students are a must! This position consists of primarily office-oriented work, combined with public interactions and representing the team in various meetings on campus.
Duties
Under the direction of career staff, conducts and organizes all DPW outreach efforts for the year
Utilize research and knowledge of composting, vermicomposting, environmental impact of food waste, local waste systems, and small-scale organic gardening to develop DPW's informational resources.
Write content for the website creates brochures, flyers, logos, stickers, advertisements, and event materials, working with the Associated Students Graphic artists when needed.
Incorporate ideas of zero waste, repurposing, and reclaimed materials into interactive displays and giveaways
Maintains and expands DPW's social media presence including Facebook and Instagram
Photo document departmental activities and events to be used on media
Tables at events to promote DPW's activities and connect with campus outside of environmental campus organizations
Design, organize, schedule, and execute workshops centered around composting, small-scale food production, and closed loop food cycles
Works with the DPW Student Operations Coordinator to schedule, develop and promote educational workshops
Maintain frequent and regular communication with Program Coordinator on DPW progress and needs. Must be able to attend a weekly meeting with the Program Coordinator and a weekly meeting for DPW Student Coordinators to discuss project progress and needs.
Must attend quarterly meetings with other groups on campus as a team representative for workshops, Associated Students, and others.
Other duties as assigned
Requirements
Must have a strong interest in and knowledge of composting, vermicomposting, gardening and environmental issues related to food waste
Must be comfortable with public speaking, presenting, and interacting with the student population
Must possess excellent communication skills, both written and verbal. Public Speaking experience preferred.
Must have a passion for environmental issues and a willingness to share.
Must be interested in event planning and creating exciting, engaging table displays
Must be extremely organized.
Must be able to work events on weekends and evenings
Must be able to balance and alter your schedule quarterly to accommodate for events in the academic year, or seasonal events such as Week of Welcome or Earth Day
Must be able to work independently on multiple projects each quarter
Must be willing to get a bit dirty.
Must possess a valid driver's license.
Adobe Design Suite, social media, photography and WordPress skills are beneficial, but not required