All team members of Associated Students Department of Public Worms are full-time UCSB students.
Worm Wranglers
Worm wranglers do the hardest work at DPW. They manage our aerobic compost systems, vermicompost systems, tend to Family Student Housing compost program, and are the worker bees for the Edible Campus Project. See more details of our work – About Us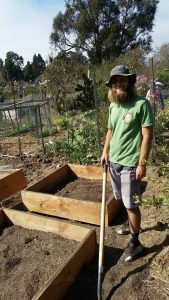 Shane Dewees
Worm Wranglin' since Fall Quarter 2016. A Senior Environmental Studies major. "I have been bit by a shark while surfing."
Student Coordinators
Anna Adriani – Operations Coordinator
Anna joined the DPW team in Fall quarter 2014 when she was just a freshman. She dedicated her hard work and time to our compost efforts as a worm wrangler for a whole year, and today she manages all our operations. Whether there's an issue in the Grove, the hoses are leaking, or someone called in sick, Anna makes sure all our work gets done when it should!
She is an Environmental Studies B.S. major. "I quidditch and the flute."
Kaitlyn Haberlin – Outreach Coordinator
Kaitlyn joined the DPW team in fall quarter 2016 as a third year . She also began as a worm wrangler, but now she manages DPW's events, social media, workshops, and other educational activities.
She is an Environmental Studies B.A. major, doubling in Anthropology. "I <3 DPW!"
Supervisor
Jessica Schmitt – Recycling and Compost Program Coordinator
Jessie joined UCSB Associated Students staff in Summer 2015. She provides us with guidance on all our projects and makes sure we get what we need while staying within our budget. "I went volcano boarding at Cerro Negro in Nicaragua!"