The Department of Public Worms is now selling worm tea to the local gardening community! Our tea invigorates your plants by providing high amounts of nutrients and organic content to your soil. The difference is noticeable immediately! Best of all, our worm tea is made onsite at UCSB with locally collected food scraps from our campus that would otherwise be sent to the landfill. Proceeds support our student-run organization by funding workshops, outreach events, and other programs to better educate our campus and community about the importance of composting!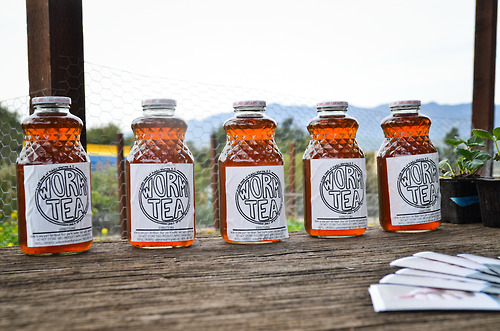 Worm Tea – What is it? It's not for drinking!
Worm tea is a natural, non-synthetic liquid soil amendment (also known as a fertilizer) made by steeping worm castings in oxygenated water. Oxygenating worm tea helps grow beneficial microbes that enrich soil. Because worm tea contains living microbes we recommend storing it in the refrigerator, where it can last up to seven days before the microbe populations begin to decline. Worm tea also contains water-soluble nutrients such as nitrates, phosphorous, magnesium, potassium, and calcium in addition to many nitrogen fixing microbes.
Worm Tea is NOT for human consumption!
Pricing
One time purchase: $8/gallon
We also offer two subscription plans for serious gardeners:
5 Week Subscription – Blue Weeks
$32 for a total of 5 gallons (20% discount!)
Order pick-up every other week
10 Week Subscription – Blue & Gold Weeks
$64 for a total of 10 gallons (20% discount!)
Order pick-up every week
To Purchase Worm Tea
Purchase at the AS Ticket Office located outside the Multicultural Center (MCC) during regular business hours Monday – Thursday, 10am – 5pm and Fridays 10am – 12pm. Orders placed after 12 pm Friday will not be processed until the following Monday.
Pick up the tea on the following Thursday between 1pm-4pm at our office at the Facilities Management Building 437 Office #153.
*Contact us with questions regarding purchases, pick up times, or location by calling or emailing us at (805) 893-7765 or ucsbdpw@gmail.com
Please return your jugs when empty to help us conserve our resources!
How to Use
Worm tea is a concentrated soil amendment – while it does not contain synthetic ingredients, it could still cause nutrient burn on plants if it is not properly diluted.
Use as a 1:3 dilution of worm tea to water. Suggested use is 1 gallon worm tea to 3 gallons of water, or 1 quart worm tea to 3 quarts of water. Gardeners may want to use a lighter fertilizer by adding more water for a less-concentrated nutrient solution. After dilution, water plants at the base of stem, applying fertilizer directly to the soil where microbes will work the soil and plants will absorb nutrients with the water.
Worm tea is not suggested for use on seedlings at 1:3 dilution, as it may cause nutrient burn. Typically the nutrients should not be applied until seedlings have been hardened off, transplanted, and after the first set of true leaves develops. Wait until seedling have been growing for 2-4 weeks, or fertilize at 1:12 to 1:6 dilution every 7 to 10 days. Seedlings can be watered at the base of the stem, or by watering on a tray for the seedlings to absorb as needed through the bottom of their starter pots.
Not advised for use if mold or film develops on top of the liquid, or if the liquid becomes overly cloudy. While uncommon, these are signs of rot and the worm tea should be disposed. Worm Tea doesn't technically expire, but it is best to use it while it's fresh for the most microbes and the highest quality nutrients.
Worm Tea is NOT for human consumption!
Does DPW Sell Worm Castings?
We are currently not selling worm castings as we simply cannot produce enough to meet demand for both castings and tea. Our tea is more popular and a much more versatile product with a faster effect, so check it out!
Does DPW Sell Red Wriggler Worms?
Unfortunately we do not sell worms because previous worm sales led to a population crash in our worm bins. In order to continue to compost at UCSB and to continue to provide worm tea, we are unable to distribute worms. 
Some good worm sources:
Uncle Jim's Worm Farm – We originally bought our worms here!
Goleta Island Seed & Feed – Our favorite local garden supply shop.
La Sumida Nursery – One of the largest nurseries in our area.
Local Bait Shops – see what's close to you!