Where it all began…
Dept. of Public Worms is a student run, student funded AS organization. Our group was originally established as part of A.S. Recycling in 2004 in efforts to incorporate composting into UCSB's waste management. Our first services focused on servicing businesses in Isla Vista in collaboration with IV Parks & Recreation. Worm bins were built in People's Park and Estero Park for students to compost the food collections. A.S. Recycling Route Riders picked up the food waste with our recumbent trailer bikes, and eventually Dept. of Public Worms began collecting food waste from several dining commons. We also sold worms, worm castings, and worm tea fertilizer. We no longer sell the worms however, because they were so popular we ran out of worms ourselves!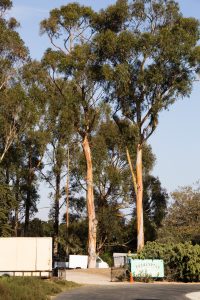 During the school year in 2010, we relocated our operations from Isla Vista to the Eucalyptus Grove on campus behind the Recreation Center Tennis Courts. This area was previously the recycle and refuse collection center for campus. Our daily routines still included collections from Isla Vista Businesses for our vermicomposting in the Grove, but we no longer had the Worm Bins in Isla Vista.
In 2012, DPW and ASR spearheaded an indoor composting program to implement permanent drop off compost bins for students and faculty in offices around campus to utilize. The project began with 6 locations, and ASR still collects from these compost receptacles several times weekly on their routes around campus. We also shifted our focus during 2012 to service more campus locations since we are funded by student fees and decided our goals should be more oriented towards servicing our fellow student community. We began collected from De la Guerra and Ortega Dining Commons, totaling three dining hall pickups on campus including Carrillo. Once we successfully began collecting such large volumes of food from the dining halls, we rebuilt our vermicomposting bins with hardwood, rebar reinforcements, and advanced pest-security mechanisms to keep out small animals and protect our worms.
We also began servicing the Family Student Housing residential complexes in 2012 in continuation of a Ph.D. dissertation project that established garden plots for residents. Additional residences in the Santa Barbara Student Housing Cooperatives were added to our weekly routes this year for additional worm food to feed our new large worm bin populations.
Our program has steadily been expanding with the help of student coordinators and increased funding with the addition of our very own lock-in fee in 2014. Improvements in our workspace, storage, and record keeping have greatly increased our efficiency and enabled our growing team to process more food waste that can total up to 2 tons of waste every month. With the help of a few grants we have also been able to hire more students and pursue more projects to further our goals of hands-on education.
Our latest project is in partnership with several other campus organizations such as the A.S. Food Bank, Bren graduate students, and UCSB Sustainability to establish a Campus Farm. Our dream of transforming underutilized spaces on campus into productive gardens was realized in early 2015 with the donation of two Washington Navel Orange Trees from the Johnson Ohana Charitable Foundation. Our Worm Wranglers tend to the trees and harvest fruit for the A.S. Food Bank. A second space will begin construction in Summer 2016 for a larger farm space on campus by the Annex and CLAS buildings by South Hall. After over a year of planning, our collaboration has created a comprehensive project that will provide an educational space for students and children in addition to shaping the goals for Dept. of Public Worms to be able to expand our garden and share our food with our peers.
See what we're up to today – About Us.    
What was the Dept. of Public Worms like in the past?
UCSB Compost Pilot Project        |        More photos on Facebook!